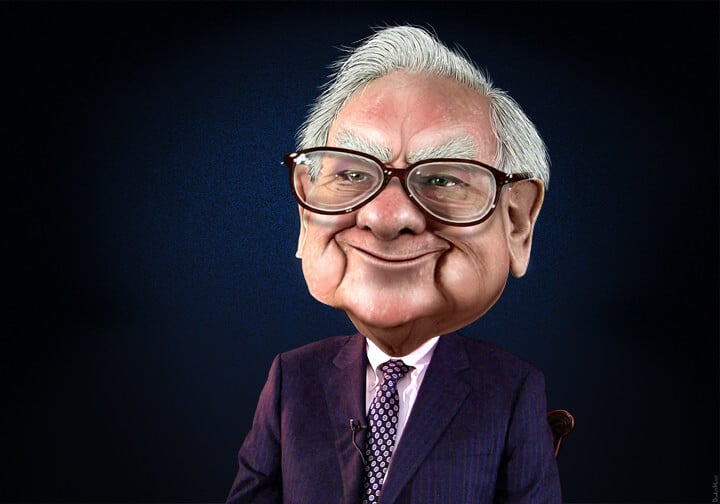 Warren Buffett is one of the most brilliant investors of all time. I personally admire him, so when someone as nasty as Donald Trump attacks him as he did in the second presidential debate, I want to come to the defense of the Oracle of Omaha. After all, Trump loves to make outrageously inaccurate accusations. However, one charge Trump leveled in the debate Sunday actually holds some water. He accused Warren Buffett among others of dodging taxes just like he does. Buffett responded that he had paid taxes since 1944 when he was a young teenager. THE TRUTH: Warren Buffett is the greatest tax dodger of all time. 
Buffett Pays a lot of Taxes, on an Extremely Small Income
Warren Buffett earned $11.6 million in 2015 and paid taxes of $1.8 million. However, his net worth is $64.7 billion. That means in 2015, the world's greatest investor only produced income of 0.018% of his assets. Is he slipping? How was his income so small compared to his many billions of dollars?
Let's compare Warren Buffett to a retired doctor with a net worth of $3 million. Imagine if that doctor had an investment portfolio with index funds that he used to retire to Florida. He had a CPA that limited his income to 0.018% of his assets. That doctors taxable income would then be only $534.
Let's be honest. That doctor might be viewed as having committed tax fraud. The doctor might be audited, and his CPA would be under investigation. However, that is exactly the same situation with Buffett, except he pretends that his nominally large tax bill is the same thing as a relatively large tax bill.
Why and How Does Buffett Limit His Taxable Income to Almost Nothing?
Warren Buffett does something that many wealthy people are good at, which is minimize his taxable income. His goal is to take all the income growth in his assets and put it in the form of price appreciation of Berkshire Hathaway stock.
Obviously, Buffett did not earn $11.6 million last year. He earned many billions of dollars in "phantom income." We have a huge loophole available to investors who invest in the stock market. Any gains in the price of a stock do not count as income until that stock is sold. If you buy stock as Buffett has for decades, he has enormous capital gains that have never been taxed.
In fact, I have a fun little sound bite about Buffett that's may be even better than Trump's admission that he used carry-forward losses to dodge taxes for 20 years. I would wager that Buffett's TOTAL taxes paid over the past 50 years amounts to less than 1% of his current net worth.
So Buffett does everything he can to make all his income come in the form of stock price appreciation. He uses the unrealized income tax loophole to achieve an effective tax rate on his income of something like 0.1% a year. That makes Trump's 5% rate or whatever he pays look generous by comparison.
Why Berkshire Hathaway Has Never Paid a Dividend
Do you think it's fishy that Buffett loves cash flow but doesn't distribute any dividends to his shareholders in Berkshire Hathaway? There's a very good reason Buffett chooses to not pay dividends.
One can see that Warren Buffett is the greatest tax dodger of all time in the way he treats dividends. He set up Berkshire Hathaway because corporations get more favorable tax treatment for dividends that individuals. Buffett issued stock in Berkshire Hathaway so that he could control the company that's effectively wrapping paper for the huge stock and business holdings he owns.
He retains corporate income from the various holdings in his massive conglomerate. In fact, Buffett likes to buy companies that are currently paying a dividend to their investors. Warren Buffett then stops it, removing the millions of dollars in taxes that were going to the IRS. That income then goes to purchasing still more companies with large dividend payments, which he often halts. In fact, Berkshire Hathaway is horrible for the IRS as it regularly stops flows of hundreds of millions of dollars in taxes to the government.
By purchasing businesses with good cash flow and reinvesting the money into Berkshire Hathaway, Buffett has increased the price of his stock tremendously. When he started Berkshire Hathaway, the stock price was $19 a share. Today, that price is $215,920. Buffett has paid taxes on almost none of these gains.
The Buffett Rule Would Not Even Affect Its Namesake
Secretary Clinton and President Obama are big fans of the 'Buffett Rule' that would raise the minimum tax rate on million dollar+ incomes to 30%. However, notice that in the above example that Buffett would only pay a couple million more in taxes if that rule were enacted. His vast fortune would essentially be immune from the rule because he never realized income from selling stock by design.
In fact, the Buffett rule would favor billionaires by bypassing taxation of their phantom income. Imagine a middle class family who got really lucky with a good property investment. Both the mom and dad work and have a combined income of $150,000 a year. Their property sale results in a $850,000 gain, which they hope to use in retirement. The government then steps in with the Buffett rule and takes 30% of their gains no matter what. All while Buffett's almost $65 billion goes untaxed. I love the Oracle of Omaha as much as anybody but this is hypocrisy.
Buffett Even Plans to Dodge the Death Tax
A core reason for the estate tax is supposed to be that it prevents dynasties of wealth in America. Another reason is that the government is supposed to be a fairer social decision maker for how to distribute assets. Buffett is depriving our elected representatives of that opportunity.
He has graciously pledged his fortune to the Bill and Melinda Gates foundation. That means he will donate Berkshire Hathaway stock to the foundation for years to come. This will allow him to avoid the 40% death tax. Think about how the government's finances could benefit from a one time $25 billion contribution. Instead, he wants to direct the entire sum to private decision makers at the Gates foundation. That's because they will be better stewards than politicians.
Warren Buffett is the Greatest Tax Dodger of All Time, and He Wants an Even Bigger Advantage
Buffett will continue using every loophole in the book to keep his taxable income lower than a Vanguard expense ratio. Unless you think a wealthy retired physician should be able to hold his income down at $500 a year, Buffett shouldn't be able to get away with what he does if you have a problem with billionaires not paying their fair share.
I have strong ideological beliefs about this. Capital is better used by its owners and creators than government. I celebrate loopholes and ways to minimize tax revenue because I do not believe our government manages finances well. In that regard, Buffett is a wonderful example and teacher to look up to.
However, the next time he stands alongside a Democratic politician to call for higher taxes, know that he wants to stack the deck further in his favor. With the 'Buffett rule,' Berkshire Hathaway's structure would become even more valuable from a tax perspective. One of the few things that Trump didn't lie about is that all these ultra rich donors to the Democratic party want to keep their loopholes in place at all costs, and will bait and switch to get what they want.
   Questions for You
  1. Do you think it's ok for Buffett to keep his taxable income down to only 0.018% of his assets?
  2. What rule would you use to tax high wealth individuals to ensure maximum compliance and minimal avoidance?