Most financial advice is a ripoff, designed to make your advisors and their companies well off at your expense. One of my friends recently asked me whether his dad should use Fisher Investments. Despite their advertising that they put client interests first by operating on the fiduciary standard, their annual advisory fee is a ridiculous 1.25% for accounts greater than $500,000. Looking out for the client must happen after you pay their exorbitant fee. After discovering how expensive aggressively marketed financial advice firms tend to be, I realized it is tough to find a good advisor and know how much one should cost. To help, I am going to show you what you should be paying for financial advice. This could be one of the most important articles for the health of your pocketbook you ever read. 
Hypothetical Advisory Fee Over Five Years, Not Including Fund Expense Ratios Or Transaction expenses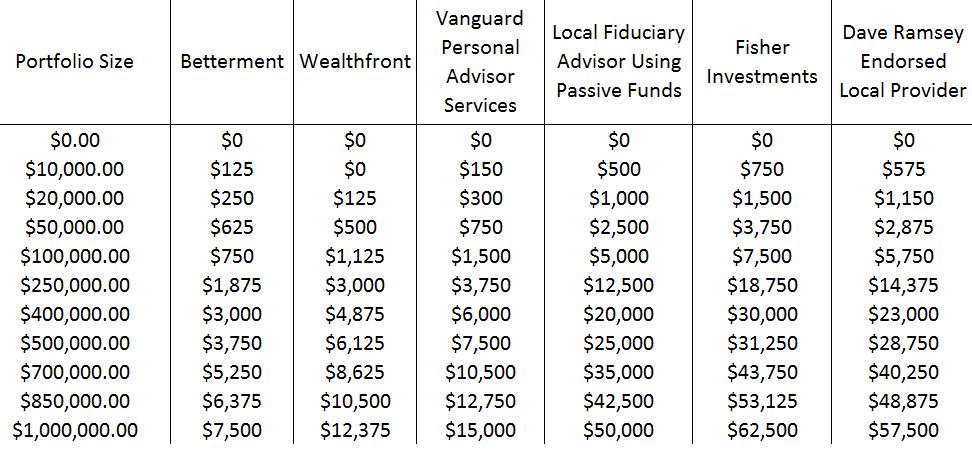 Looking at the above chart might shock you. Unfortunately, the typical household with a few hundred thousand in an advisory relationship buys their advisor the equivalent of a new car EVERY FIVE YEARS. Out of the options I surveyed for this article, Fisher Investments is the most expensive. That makes sense as I see their ads plastered all over the internet. A 70 year old white man with a 30 year old body smiles at the reader with a tagline, "Do You Have More than $500,000?" You can tell a lot about how expensive an advisor is based on how their ads look.
Additionally, notice how expensive Dave Ramsey's endorsed local providers are. They are the second most expensive, second only to Fisher Investments. In fact, they would rank as the MOST expensive by a factor of more than four if I only looked at one year advisory fees. Ramsey makes money from commission-based salesmen for referrals. These advisors tend to work with lower wealth clients and usually earn huge upfront sale commissions for putting you in active mutual funds. Ramsey is great for getting out of debt. That's when should stop paying attention to his advice.
What exactly is a fiduciary advisor?
If an advisor is a Fiduciary, he must put the client's interest first when managing money. A Registered Investment Advisor is a fiduciary. A broker or wealth manager like you would find at Merrill Lynch is probably not.
Imagine my surprise then, when I discovered that Fisher Investments is in fact a fiduciary! Apparently, the standard must not include charging a reasonable fee for investment advice. The firm might not sell high fee or commissioned financial products, but if it takes 1.25% a year of your portfolio as a fee before investing for you that seems like the same thing to me. Fiduciary in a practical sense just means that an investment advisor is obligated not to sell you a sack of horse sh*t for your portfolio. He can charge whatever fee he wants before setting up a low cost portfolio for you.
Interview your advisor hard and limit what you pay him or her
Before entering into any advisory relationship, ask the advisor if he or she is a fiduciary. If the answer is no, walk away and do not work with them, period. They will try to explain away the fact that they operate ethically and they just have a different but equally valid business model. That's baloney. You should not entrust your money to someone who will not tell you in writing that they manage your portfolio according to the fiduciary standard of care. That's a legal term that means they can get sued for a lot of money if they do not act in your best interest.
Additionally, you need to pay NO MORE than 1% of your portfolio as an annual fee. Anything higher than this, and the advisor is likely lining his pockets at your expense. Many advisors need to charge more than 1% a year to make you a profitable client. I understand that, but you should not be doing business with them if that's the case. There are so many fantastic low cost options available in the digital era of today that paying anything more than 1% a year is tantamount to highway robbery.
The Best, Great, DECENT, and Terrible Options to Receive Financial and investment Advice
THE BEST VALUE:

The lowest cost investment advice

Cost of Financial Advice: 0.25% a year with >$10,000

Who is it best for: Millennials (and everybody else too). If you want some of the most sophisticated investment management available to individual investors at a price 80% or lower than the most expensive financial advisors, look no further. They provide no financial planning except to clients with larger account sizes.

Examples: Betterment, Wealthfront

GREAT VALUE:

Low cost financial planning and investment advice

Cost of financial advice: 0.3% a year

Who is it best for: Retirees (but good for others as well). You get a team of CFP advisors or a dedicated advisor with a larger account. The fee also includes financial planning. That's a great value if you are trying to figure out how much to spend in retirement or how to plan for financial goals.

Examples: Vanguard Personal Advisor Services

GOOD VALUE:

Local Fiduciary Advisors <= 1% annual fees using primarily passive funds

A good local financial advisor probably looks something like this guy. Not someone wearing a $2,000 suit with a Rolex watch. Thanks to Source and sorry for the poor guy in the photo.

Cost of financial advice: 1% is an average yearly fee. If you have a large account size you might be able to negotiate it down to 0.75%.

Who is it best for: If you want the professional who handles your money to be a part of your community, find a fiduciary advisor who uses low cost funds from Vanguard or DFA.

Examples: Merriman

TERRIBLE VALUE:

Any advisor not on the fiduciary standard, or that charges >1% a year in fees

If an advisor looks like this, run don't walk. There's a reason his suit is that nice and it's your empty pocketbook. Source

Cost of financial advice: 1.25%-1.5% yearly, or a one-time upfront 5.75% fee

Who is it good for: Advisors, and their brand new Mercedes S class. It's not good for anybody else.

Examples: Fisher Investments, Dave Ramsey Endorsed Local Providers, Big Bank brokers
If You Go with the Best Option For Financial Advice
Betterment
and Wealthfront are to the high fee financial advice industry as Uber and Lyft are to the dishonest part of the taxi industry. These two firms are perhaps the most consumer friendly innovation in personal finance since Vanguard created the first mass market index fund in the 1970s.
Neither firm includes financial planning in their incredibly low fee, which is perhaps the only drawback. They offer some financial guidance, but not full scale planning. Bloggers write plenty of articles as to which company is better. My answer is either one. Both of them are fantastic compared to the traditional way Americans obtain money management.
But what if you had to choose?
Betterment
used to have a lower fee for a larger account size (0.15% a year for >$100,000 under their management). They tax loss harvest your portfolio and emphasize value stocks more. However, Wealthfront manages the first $10,000 free and charges a flat 0.25% for all account levels while emphasizing real estate and foreign stocks. They offer direct indexing for the US equity part of the portfolio where they buy the individual stocks in the market DIRECTLY and harvest losses at the micro level. They estimate it could add 2% a year to performance for taxable accounts. I believe that both companies use smart investment strategies.
Since tax loss harvesting does not matter for retirement accounts like IRAs, I would choose Betterment
for any retirement investments of more than $100,000 because of the lower 0.15% fee (update: no advantage to either one at this point because both now charge 0.25%). For my taxable accounts I would choose Wealthfront because of the unique direct indexing feature. If I had less than $100,000, I would also choose Wealthfront as both companies charge 0.25% a year at this account size, except that Wealthfront manages your first $10,000 free.
For the ultimate smart decision making, consider using Learnvest for financial planning along with either one of these two companies to manage your investments. Learnvest charges a one time set up fee of $299 with a recurring monthly charge of $19 a month. They get into the nitty gritty of planning a budget, mapping out financial goals, and helping with basic financial questions like how much insurance you need.
If you are twenty or thirty something years old, why do you need to walk into an bland brick and mortar building to listen to a man or woman in a fancy suit sell you expensive financial products? Get with the times. The future of the advice industry is digital. These companies offer tremendously better value than most of their competitors, as you will see later.
IF YOU GO WITH the great OPTION FOR FINANCIAL ADVICE
Vanguard Personal Advisor Services (VPAS) is also a tremendously pro-consumer business offer. You get financial planning from a Certified Financial Planner PLUS investment management for your portfolio. All their services bundled together only cost 0.3% a year. Since my parents are not very savvy financially, I told them that if something ever happened to me that I would want them to hire Vanguard as their advisor. Betterment
and Wealthfront are the better deals, but they require patience of dealing with an online only service.
With Vanguard you can call a living breathing human being at any time. The automated investment services provide almost constant availability to customer support representatives, but not financial planning anytime you want it. That is one reason why the service is well suited for people older than 50 as they would probably be less comfortable operating exclusively online. I know my parents would want to speak to someone about their money, which is another reason Vanguard provides a unique value to the advisor marketplace. Where else can you talk to someone about your money and receive a professional, unbiased viewpoint for 0.3% on $50,000 in assets?
The only downside here is that Vanguard moves slow and is very cautious with adding new features like tax loss harvesting. The company's technology is always behind. One only need look at their website for proof. Additionally, they will be slow to use non-Vanguard funds, which means that their investment methodology will be hamstrung by what they have available in their suite of offerings. Also, your taxable returns could be lower with a more conservative tax loss harvesting approach. Their advice will be cookie cutter and perhaps overly simple. For a lot of people though, overly simple is what they need.
IF YOU GO WITH THE Good OPTION FOR FINANCIAL ADVICE
Some people want to go out with their advisor for a beer or lunch occasionally. Others like the idea of knowing where the advisor works so they can hold a real person accountable for their poor performance if the market tanks. I understand those feelings, though I still prefer the lower fees of the choices above.
Even so, your local fiduciary financial advisor probably offers a fair value for an important service. Their fee should be under 1% a year, and it should include investment management, financial planning, general financial questions, and tax suggestions. You should also expect estate planning guidance from your advisor.
Many local indepedent advisors started out at higher fee firms and realized that they wanted a better business model. Being a fiduciary allows them to put their client interests first when managing money. Going independent allows them to charge a lower fee of 1% or less because they do not need to support the parent financial firm's profits. If the advisor charges more than this level, he might be in it for the money and I would tend to not trust him.
Finally, the advisor should recommend mostly passive funds. Vanguard and/or DFA funds are examples of great selections to look for in an advisor's portfolio. Look for a Certified Financial Planner (CFP), Chartered Financial Analyst (CFA), or CPA (everyone knows what that is, lucky accountants who do not have to explain their credentials).
IF YOU GO WITH THE terrible OPTION FOR FINANCIAL ADVICE
At the risk of alienating some friends, you should never, EVER let someone manage your money who will not agree IN WRITING to uphold a fiduciary duty to you. In addition, you should never pay more than 1% annually in fees for the financial advice.
Fancy Merrill Lynch wealth managers who measure their career success by revenue generation? No way. Dave Ramsey endorsed advisors selling load mutual funds with upfront charges? You gotta be kidding. Ramsey lives in a giant mansion for a reason. Your acquaintance from college selling whole life insurance with low interest rates and complex expenses? Not an investment, or at least not a good one. He probably does not truly understand what he is selling. That glossy Fisher Investments mailing showing incredible active stock picking performance with the fiduciary standard and no hidden commissions? They back test results to make a hypothetical portfolio impressive enough to sign people up, and judging from the Bogleheads forum their salespeople rival the movie Boiler Room. Too bad their actual investors probably experienced a lower rate of return that they would never want to use in advertising.
If you are in one of these advisory relationships currently. GET OUT! You will be buying your advisor a new S class Mercedes over the next few years in fees. Go with one of the options above instead. There are great people working for these kind of employers. That's not their fault, but you should encourage them to go to work for one of the good guys. Perhaps suggest that you would follow them to their own independent firm following the fiduciary standard if they started one. I would think there would be no higher compliment to pay someone in the financial advice industry than that.
Although i didn't mention it above, watch out for worse than terrible
Even though advisors who charge high annual fees or hefty upfront commissions are bad for you, there is another kind of advisor who is even worse. He is the kind that invites you to fancy steak dinners, free investment seminars about the "scary stock market," or who "specializes in guaranteed income for seniors."
These guys (they are mostly men) sell variable and equity index-linked annuities. Fixed annuities are also not great for you, but are far less expensive and difficult to understand. Variable and equity index-linked annuities can have charges as high as 3.5% a year, or even more. While they provide some downside protection, they limit what you can earn in investing.
what are these strange sounding annuity investments and why should i watch out when someone tries to sell me one
Variable annuities provide an income guarantee that you will not outlive your money if the stock market falls. It is essentially an investment account wrapped in insurance that prevents any choices from being available not selected by the sponsoring company. Guess what they choose to offer? Mostly high fee active funds with huge expense ratios.
Equity index-linked annuities tie your returns to a stock market index. You can never earn less than 0%, but have a maximum cap on earnings, perhaps 6%. I read a contract for a friend once who bought one of these. If the stock market returns -10%, she earns 0%. If the market returns 20%, she makes 6%. If the market earns 3%, she still gets 3%. You have a tightly bound range of potential returns with this product. While reading the fine print, I noticed the range resets to from 0-6% to 0-4% after the first year. Additionally, if she pulls the money early, she must pay a 10% surrender charge to the insurance company. Her average return is therefore approximately 2% a year, with the potential to lose 10% of her money immediately if she needs to use it for something.
"Advisors" (these people should not be able to call themselves that in my opinion) can earn 10% or more as an upfront commission from selling you either a variable annuity or equity index-linked annuity. The surrender charges usually go towards paying back the sales commission, as the insurance company does not want to write such a steep check to an agent without reaping the profit. Unfortunately, lower income professionals, low information investors, and risk-averse savers are prime targets for annuity salesmen. Run from these people. Many of the worst abuses in the financial advice industry come from annuity sales.
quick hit summary
Some of the companies I mentioned have affiliate programs where I earn a small commission if you click on their links such as Betterment
and Wealthfront. Some like Vanguard Personal Advisor Services do not. Others probably have affiliate programs but I trashed them in this article so am not including their paid links.
My philosophy is to give you the unvarnished, best knowledge I can so you can save money. I think Betterment
and Wealthfront are the best two options for investing in history because they offer the lowest fees with the most sophisticated service. If you open an account of any size with them please click any of the links in this article. Thanks so much for supporting the site if you decide to do that. I'm finishing this at 2AM because I am passionate about this stuff, not because I need money. Too many of my friends have fallen victim to the financial advice ripoff.
If Vanguard sounds like it fits your needs better, awesome. If you love grabbing a Heineken with your advisor while watching a New York Rangers game, that's great too. Just do the following things and it could make you rich:
Demand a fee lower than 1% a year of your portfolio
Require your advisor to submit in writing that he or she is a fiduciary
Look for an advisor with a passive investing philosophy
I would love to continue the conversation. Were you shocked that advisors earn so much money over five years? Did you know about the insane value available now in financial advice thanks to information age technology? Should I open an investment advisory practice in between the costs I show here? What should I charge? Haha. Too bad my advice is free. Comment below!